Class of 2012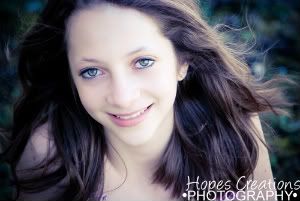 Don't wait to schedule your senior session! Many benefits for scheduling early!
Email me
for your $50 gift certificate (expires on June 30th 2011). $25 gift certificates will be available for the month of July. The number of gift certificates is limited.
CASH referral bonus
If you refer someone to Hope's Creations Photography for their senior session you will recieve a $10 cash bonus for every person who books with us between June 1st 2011 and September 1st 2011. No limit to the referral bonuses. Bonuses will be available 48 hours after the person you refer completes their session.
I cordially invite you into the studio or on location for your own fabulous session! Visit http://hopescreations.com for pricing information. Call 269-381-4810 or email info@hopescreations.com to schedule a complimentary consultation and session.